About
Antonio Silva is a born healer and medical intuitive who has the capacity to know and help the concerns and mental and physical conditions of a person regardless of their location.

Antonio works with patients located around the world, both in person and via telephone. Antonio uses his gifts to restore people from virtually all conditions known to mankind.
The unique hallmark of Antonio's healing work is the fact that people are both healed and restored to health, as well as reinstated with a strength and peacefulness that remains as they continue their life journey.
"You don't have to see it to believe it: My healing is deep within the body, the mind and the soul, you don't necessarily see it, but you will sometimes feel it."
---
Media Coverage
Antonio has been featured in prestigious national and international media and has lectured at different universities and academic institutions throughout the United States.
His unique talent to help people leave illness and pain behind has attracted the interest of the United Nations and other well-known non-profits and private institutions, where Antonio has been invited to demonstrate his exceptional healing abilities.
"Distance healing: Myth or Reality" Click here to read a recent article featuring Antonio. – Published: Sunday | July 5, 2015
Radio Show – WOON Radio Network, Rhode Island, "Antonio's Hour of Healing Power" – 2000-2001
Lili Claire Foundation, Hollywood, CA – supporter and contributor – 2002
Television – CNN Atlanta, The Royal Marshall Show, "The Royal Treatment" – 2003
Lecturer – United Nations – Harnessing of Consciousness – 2005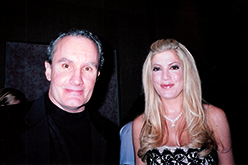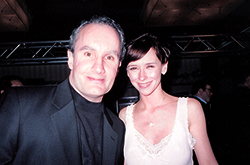 –  Antonio at the Lili Claire Foundation in 2002 with Tori Spelling and Jennifer Love Hewitt