His Story: A Family Lineage Of Healers
When Antonio was born, his paternal grandmother blessed him before his family members, noting he would heal and help countless people around the world. She and her husband were from the island of St. Micheal in Portugal, known to be the birthplace of many healers. Indeed they were both very spiritual people and lived a life of prayer and service to their community.
Antonio's mother was of European heritage and had a born gift since childhood to speak to people within his family of prophetic events that would transpire throughout the course of her life.
During his time of serving humanity with his gifts, Antonio says God has blessed him. He has worked as a medic in Berlin, Germany and countless hospitals from his early teenage years. Today Antonio works around the world via telephone, and at times in person, helping the suffering humanity. He teaches those ready to serve others in the ways of his heritage and looks forward to seeing the world helped each and every day.
His work has continued for well over 50 years, and he looks forward to helping humanity with his gifts.
"During the time I'm working, you won't hear me speak out loud for what feels like a period of time." – Antonio Silva
Each session has similar elements as follows:
Antonio will provide you with a list of problems that he is aware of that is either currently a problem for you or has been.

He will then touch base with you to compare what he can sense with what you are feeling currently.

Next, you will quantify your pain or difficulty on a scale of one to 10, 10 being the worst pain you've ever experienced, in order to have a way to track your improvement. Each condition may have a different value associated with it.

Lastly, you will get comfortable some place quiet, close your eyes, and Antonio will work.
"You don't have to see it to believe it: My healing is deep within the body, the mind and the soul, you don't necessarily see it, but you will sometimes feel it."
Antonio Silva is a born distance healer and medical intuitive who has the capacity to know and help the concerns and mental and physical conditions of a person regardless of their location. He uses his gifts of natural healing to restore people from virtually all conditions known to mankind. Antonio works with patients located around the world, both in person and via telephone.
Antonio's Childhood Experiences
As a young boy of 5 years old Antonio began to experience supernatural light in his dreams in which he was literally taken up in. During these dream time experiences he would actually be lucid and aware of a supernatural power literally making his body shake.
He would force himself to awaken from these dreams since the power of the light he said made him feel like he was going to almost inwardly explode.
During this time Antonio began to notice that the hand he wrote with his left hand would become inwardly hot and as he described pulsate. With this the awareness of physical concerns for his family members would be made known to him inwardly in an intuitive way. As a result when his father a carpenter had problems physically in his body Antonio would tell him where the problems were without the need for his father to say a word. He would then point his left hand toward the areas and the pain would be erased as he likes to say. Antonio's father comes from a very large family so as time went on Antonio began to heal and help his aunts, uncles, and their children in the same manner.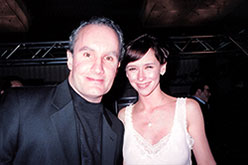 Antonio at the Lili Claire Foundation in 2002 with Tori Spelling and Jennifer Love Hewitt.
Antonio Silva's unique talent to help people leave illness and pain behind has attracted the interest of the United Nations and other well-known non-profits and private institutions, where Antonio has been invited to demonstrate his exceptional abilities as a natural healer.
The unique hallmark of Antonio's healing work is the fact that people are both healed and restored to health and reinstated with a strength and peacefulness that remains as they continue in their life journey.
Restorative Distance Healing: How Antonio Heals
As an intuitive healer born with natural abilities, Antonio's abilities allow him to help heal anyone from anything located anywhere in the world. His distance healing is unique because he can work both quickly and thoroughly to provide you with real relief from any ailment.
If this is your first time working with a distance healer, understanding what an intuitive healer is, how these sessions can help, and what you can expect from a session is important and can help you start on your healing journey. Even if you're nervous or unsure, it's worth taking a chance on working with Antonio in order to alleviate your pain and continue on your path in life much more refreshed and grounded.
Your first appointment will be a consultation in order to address your needs and make sure that the process will be a good fit for you. After the initial consultation, healing will happen over a series of sessions.
After a session, you should feel rejuvenated, warm, and uplifted with greater fortitude to continue on your life journey. Overtime, your conditions will diminish as if they were never there to begin with.
Curious How Alternative Healing Could Change Your Life?
If you would like to experience the power of a distance healer for yourself, you can request a session with Antonio.